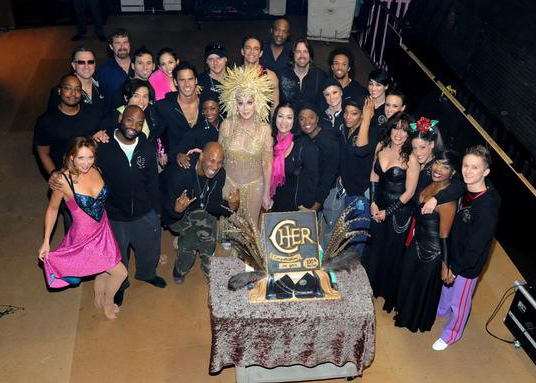 In 2009 Patti Russo saw one of her childhood dreams come true when she landed a job in Cher's band for the pop legend's show at Caesars Palace in Las Vegas.
Here's the story of this exciting chapter in her career in Patti's own words:
"The story behind getting to work with Cher is yet another crazy chain of events that seem to be the norm in my world.

So, I'm somewhere in Europe, on tour with Meat Loaf, and am in the middle of doing an internet interview. I'm talking about the time in the 90s when we were doing Top Of The Pops in the UK, and Cher was also on the show performing her single, "Walking In Memphis". She was dressed like Elvis and looked incredible! She was my idol growing up – I have the same birthday as her – and now she's in the NEXT room!

Well, I went to Meat's wife, Leslie, and asked her to please ask him to introduce me to Cher and let me get a picture with her. So… shortly after, in comes Meat Loaf, with Cher, into my dressing room and Meat makes the introduction… then precedes to put his arm around Cher and says, "OK, Patti. Take the picture." Well, HELLO?????? Literally, "What's wrong with THIS picture"??? I was at a loss for words and couldn't bring myself to say, "Um. I want to be IN the picture, Meat…", so I just snapped a photo of the two of them and that was that.

So back to the interview. I tell the story and say into the mic, "Cher, if you're listening, I STILL want a photo with you!" Who would've guessed that less than a week later, I'd be on a trans-Atlantic flight from London to LA to do a TV show with Meat Loaf and his daughter, Pearl, called Don't Forget The Lyrics [video], and whilst on this particular flight, I run into some musician friends from our time doing Night Of The Proms in Belgium, who were now getting ready to begin rehearsals for Tina Turner's upcoming tour. As fate would have it, we are all staying the same hotel in LA and eventually everyone ends up meeting in the hotel lounge.

I then get introduced to someone who also happens to be one of Cher's keyboard players and I tell him what a huge fan I am of hers and if an opening ever came up for a background singer, to please keep me in mind. Normally, those requests go in one ear and out the other, but in this case, I DID get that call! And in the end, I did get my picture with her… On, of all days, May 20th. Her birthday and mine!!!!! Pretty cool!!!!!
Here's an audience recording of Patti singing Y.M.C.A at one of Cher's shows.