Rocktopia has posted a lovely review of Patti's big tour finale gig in London last week.
Patti Russo – Islington 02 Academy, London, 27th April 2014
After spending decades duetting with rock heavyweight Meat Loaf in front of sold out arenas the world over, Patti Russo took the opportunity to step out on her own recently with her 'How Are Ya 5-Oh' UK tour. Inspired by her landmark birthday, the songstress elected to do something she has never done – put together her own band and play some of her own music, bolstering the set with some well chosen covers which paid tribute to both her influences and her impressive career to date.
Picking out seven dates across the UK and finishing up in the Islington 02 Academy in London, the venue was busy with fans, some familiar faces from TV and some well known rock musicians all in attendance. For me personally, I've always been impressed with Patti's vocal ability, with her being the highlight of Meat Loaf concerts and albums. She impressed me even more when she sang with Queen in Amsterdam in 2002, so it was fitting she opened the show with Queen's 'It's A Beautiful Day', which merged flawlessly into a rollicking 'Don't Stop Me Now'. The sound was excellent, with Patti's voice sounding strong and clear. Flanked by Jamie Moses on guitar and a band that featured veterans Toby Chapman, Steve Stroud and Johnny Marter, the scene was set for a superb evening of music.
Patti is a fantastic front woman – one of my colleagues likened the concert to a party, with Patti as the host. She told amusing anecdotes between songs and looked so at ease, it seemed like she'd be fronting her own shows her entire life. She delivered an impassioned rendition of Meat Loaf's 'I'd Lie For You (And That's The Truth)' which I thought was superior to the original, before airing some of her own material.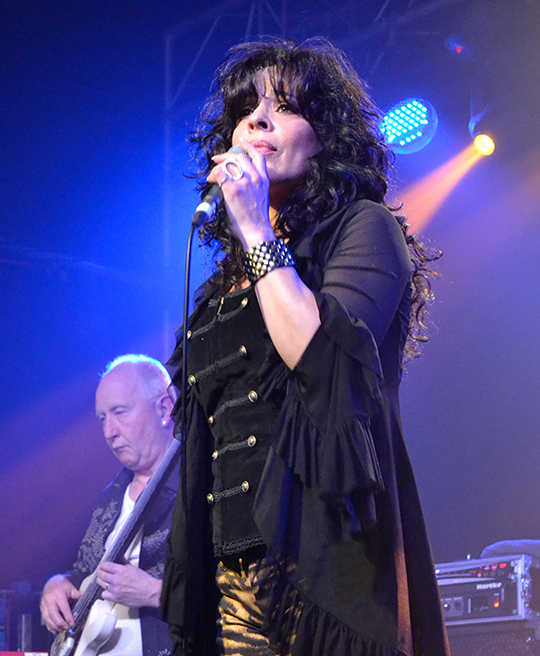 The first 'new' song was 'Bring Me A Bible And A Beer' which she originally debuted on Meat Loaf's 2008 tour. The song is a groovy, blues rock number which was sung superbly. It went down a storm and the good news for fans is that it has finally been properly recorded in a studio – Patti has her own EP out which was available at the show, soon to be added to iTunes and made available through her website. She followed it up with another new song that has yet to be committed to disk, the amusing 'In The Tomatoes', before a scintillating cover of the Alannah Myles classic 'Black Velvet' got everybody swaying.
A stand out moment in the show for me was the performance of one of my favourite Meat Loaf songs, 'Dead Ringer For Love'. She introduced it by telling the audience Cher was her idol and that Cher herself had commented that Patti had the ability to sound just like her. So, armed with that knowledge, we were treated to a storming rendition of the track, with Russo singing Meat Loaf's part in her own voice, then doing an uncanny Cher impression for the Cher parts. The result was both fun and impressive, with two great voices, both coming from the same singer!
While the covers were both fun and memorable, this tour was about the launch of a solo career. The new material we heard promised much, the best of the bunch for me being the acoustic, intimate and heart wrenching 'Here We Are' where Patti delivered a phenomenal vocal. I'm pleased to report that is also on the EP, along with 'One Door Opens', a soaring anthem about life moving on. To my delight, there was a surprise left field choice of cover in the form of 'Baby Love', originally by criminally underrated funk-rockers Mother Finest, who I'm a big fan of. Patti nailed it, hitting everything that Mothers Finest's amazing vocalist Joyce Kennedy can hit and making me re-evaluate her as a vocalist once again.
More new material was performed and the likes of 'I Don't Give A Damn' and 'Whole Lot Of Nothing' suggest Miss Russo could have quite an album on her hands when she brings all this material together. The party then went into higher gear when she brought on stage Spike Edney to help out on guitar, along with her good friend John Partridge for a couple of duets. Partridge, while best known to UK audiences as Christian Clarke from Eastenders, performed in the musical Notre Dame de Paris with Russo. Together they ploughed through 'Mustang Sally' and the Doobie Brothers classic 'Long Train Runnin'' before Patti wound things up with an exhilarating version of 'River Deep, Mountain High'.
With a great collection of songs, a superb band, great sound and a voice to die for, there wasn't anything to dislike about this gig. I thoroughly enjoyed it and after seeing it in person, if asked for my thoughts on the 'How Are Ya 5-Oh' tour, I'd urge to promoters everywhere "Book her, Danno!"
James Gaden
Patti is also featured in Rocktopia's Fireworks magazine this month (issue 63). You can find more details on where to buy it here.